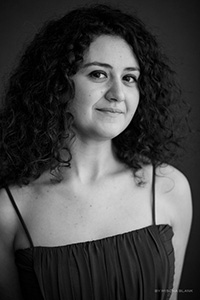 The pianist Anna Karapetyan was born in Armenia, where she received her first piano tuition at the age of five. After finishing the musical high school "P.I. Thaikovsky, she started her professional studies at the "Komitas" state Conservatory in the class of Prof. Shugarov. Subsequently she continued her studies in Germany, starting in 2006 at the Detmold Musikhochschule with Professors A. Ugorski and A. Perl. During this time Anna was a scholarship recipiant of the Alumni-Association and received a DAAD Scholarship. She then transferred to the Musikhochschule in Cologne to Prof. Nina Tichman where she graduated in 2012. After the diploma Anna continued in a post graduate soloist program in Cologne and simultanously studied in the "Accademia di Pinerolo" in Italy with renown Prof. Enrico Pace.              
She participated in master classes with among others professors Marta Gulyas, Dmitri Bashkirov, Eberhard Feltz, Hans-Dietrich Klaus, Pierre-Laurent Aimard and Günther Ludwig.
Anna received further musical impulses at the International Music Festival "Allegro vivo", Aberdeen International Youth Festival, Collegium Musicum Schloss Pommersfelden and the International Chamber Music Academy Frenswegen. She played with the Wiesbadener Orchesterverein, Detmold Chamber Orchestra and the Bergische Symphoniker among others.
During her studies Anna was a scholarship recipient of the "Yehudi Menuhin Live Music Now"-Foundation and a laureate of the Karlrobert Kreiten Piano Competition.
She has been teaching for many years in music schools as well as privately and is a very passionate teacher.