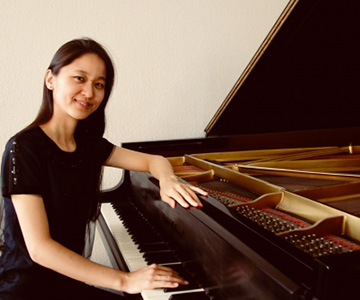 Asa Mori is a pianist who has been invited to perform in such festivals as "Klavier Festival Ruhr" in Germany, "Ogaki Music Festival" in Japan and "Amadeo Festival" in Holland. She has won numerous prizes in national and international competitions, including "Classical Music Competition Japan", "Nagoya International Music Competition" and "Prix d'Amadeo Jeunesse".
Asa was born in Japan. She began playing the piano at the age of 6. By the end of the following year she had already won two prizes in national competitions; the 1st prize at "Konan Music Competition" and the highest prize at "Japan Piano Teachers Association Audition" where she was the youngest prize winner. As a soloist, she made her debut with the Cracow Chamber Philharmonic Orchestra.
After her studies at Toho-Gakuen School of Music where she performed at the graduate honours concert at Casals Hall in Tokyo, she moved to Germany in 2002 to study with a distinguished pianist, Pavel Gililov at "Hochschule für Musik und Tanz Köln". In 2008 she graduated with first class honours. She has attended master classes with Ferenc Rados and Halina Czerny-Stefańska. In 2011 she finished the highest degree of music performance in Germany, "Konzertexamen". She is also a qualified teacher of the Alexander Technique, which serves holistic learning and healthy music making. Currently she is writing a book about the Alexander Technique for the Japanese music publisher "Yamaha Music Media".
Asa performs regularly as a soloist and a chamber musician. She has appeared with "Eurasia Culture Society", "Villa Musica", established by the government of Rhineland-Pfalz; and "Yehudi Menuhin Live Music Now", playing with such luminaries as Christian Altenburger, Patrick Demenga, and Klaus Thunemann. She has performed with the solo string players of NHK Symphony Orchestra as well. Moreover, she has collaborated with Tokuhide Niimi, a well-known Japanese composer. Some concerts have also been broadcast on radio, such as SWR and WDR. In 2013 she founded the "Mori-Trio" with violinist Werner von Schnitzler and cellist Aiki Mori-von Schnitzler. The trio's first CD, with works by Dvořák, will be released by the Hänssler label in 2018.
In addition to her concert activities, she has been a lecturer at the International Franz Liszt Academy in Cologne since 2011, a lecturer at the Folkwang University of the Arts in Essen since 2016, and a guest lecturer at the Toho Gakuen Academy of Music in Tokyo since 2017.