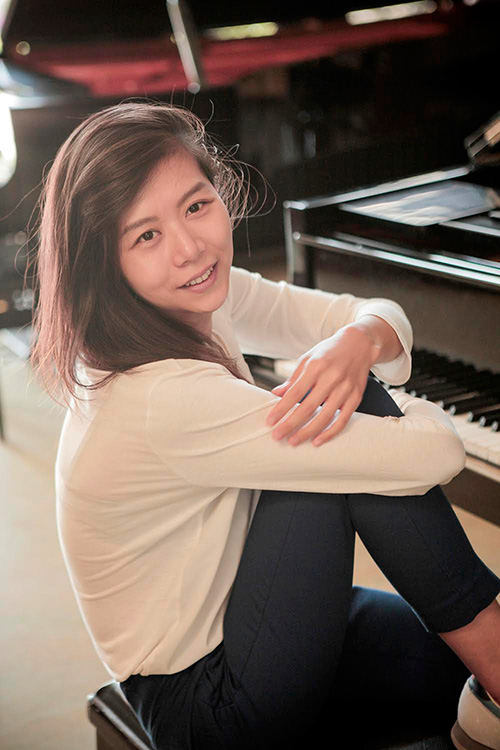 A South Korean-born pianist Hyun-hwa Park came to Karlsruhe University of Music after completing her piano studies from Kyung-Hee University in Seoul and from Robert Schumann University of Music in Düsseldorf. She majored Song-Interpretation in Karlsruhe University of Music. She received her Master's degree and degree in Solo-Performance (Solistenexamen) with excellence.
In addition to her studies, she received chamber music and piano lessons from Prof. Ralf Gothóni and chanson from Prof. Daniel Fueter. She gives concerts as a soloist, with an orchestra or in an ensemble: in Seoul, Düsseldorf, Münster, Erkrath, Hofheim, Strasbourg, Baden-Baden and Karlsruhe. She also took part in the Zeitgenuss Festival in Karlsruhe in October 2016 and in the Festspielhaus Baden-Baden in the G20 summit in March 2017. In May 2017 she gave a concert with the mezzo-soprano Luise von Garnier as part of their scholarship from the Riemschneider Foundation Kultur Gut Dönkendorf in Mecklenburg-Vorpommern.
In January 2019 she took the Liebesliederwalzer CD-project and performed this project in Karlsruhe. In February 2019, the concert was broadcasted live by Deutschland-Rundfunk. In May 2019 she played the piano and celesta with the Heilbronn Orchestra. In the same month she gave another concert with the baritone Konstantin Ingenpaß as part of the Riemschneider Foundation scholarship.
During her studies she was financially supported by the Study Foundation of the Studienstiftung des Freundeskreises for four years and the scholarship of the Brahms House Baden-Baden. She was also a scholarship recipient of the Live Music Now Foundation Oberrhein and the Richard-Wagner Verband Karlsruhe registered association. In October 2016 she won the 1st prize in the competition of the Rainer Koch Memorial by Kulturfonds Baden registered association. In 2018 she was awarded the second place in the same competition of the Rainer Koch Memorial. In April 2019 she was awarded the Mozart Prize at the International Chamber Music Competition in Lyon, France.