Eugenia Ottaviano, Violin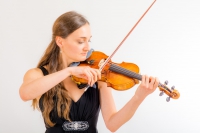 Eugenia Ottaviano was born in Terni in Italy. She started playing the violin at age seven, her first teachers being Judith Hamsa and later Fulvio Liviabella from the Orchestra of La Scala in Milan. She began her professional studies at the renowned Walter Stauffer Academy in Cremona in the class of the famous violinist Salvatore Accardo. After moving to Germany, Eugenia studied at the Musikhochschule in Cologne with Prof. Charles Andre Linale and Prof. Keiko Wataya, graduating with highest grades in 2005. She also studied chamber music with Prof. Emile Cantor. Later on followed postgraduate studies with Prof. Ida Bieler in the Robert-Schumann-Hochschule Düsseldorf, graduation in 2013 again with highest grades. Currently Eugenia studies chamber music with the string quartet Alinde-Quartett (which she founded) in the class of Prof. Feltz at the Hochschule für Musik "Hanns Eisler" in Berlin.
Eugenia has worked with numerous famous musicians and composers in masterclasses and festivals, such as L. Mordkovich, M. Brandao (Barock violin), Günter Pichler, Jörg Widmann, Arnold Steinhardt, Wolfgang Rihm, Christoph Richter, Jürgen Kussmaul, Ida Bieler, Harald Schoneweg, the Mannheimer String Quartet, the Auryn Quartet.
She has won prizes in numerous competitions, i.e. the Schmolz und Bickenbach competition in 2010, the International Pinerolo Chamber music Competition (best string quartet). Eugenia takes a special interest in chamber music. In addition to the Alinde-Quartett she regularly plays Piano Trio, Duo with piano (with James Maddox), and in various ensembles with renowned artists such as Ida Bieler, Oren Shevlin, Jürgen Kussmaul, Alexander Hülshoff, Robert Oberaigner.
Eugenia has orchestral experience from the Orchestra da Camera Italiana (S. Accardo), Camerata Finlandia (J. Panula) and the WDR Sinfonieorchester in Cologne.
She has taught privately and in various music schools in Germany. She is an assistant of Prof. Ida Bieler and runs the Ida Bieler Music Academy in Cologne together with Victor Haustein.