Frederike von Gagern, Violin und Viola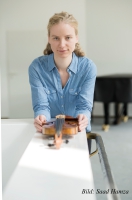 Frederike von Gagern studied violin in Hannover (Prof. Ina Kertscher), in Stuttgart with Prof. Anke Dill and at the RSH Düsseldorf where she completed her studies in the class of Prof. Ida Bieler in summer 2015 with top marks. She received further impetus from Shmuel Ashkenasi, Christian Altenburger, Stephan Picard and Benjamin Schmid.
She was granted several scholarships (e. g. "Yehudi Menuhin-Live Music Now", Richard-Wagner-Verband and Konrad-Adenauer-Stiftung), is award winner of several competitions (e. g. first prize at the International Chamber Music Competition Barcelona, fourth prize at the International Chamber Music Competition "Citta di Pinerolo") and was invited to prestigious festivals like "Musikdorf Ernen" in Switzerland or "Unga Musik pa Slottet – Royal Festivals" in Stockholm.
As a member of the "Saphir Quartett" and later the "Alinde Quartett" she was trained at "ProQuartet" in Paris and closely co-operated with Prof. Peter Buck (Melos Quartett), Prof. Eberhardt Feltz (HfM "Hanns Eisler") and also Günter Pichler and Gerhard Schulz (Alban Berg Quartett). Recordings followed for the WDR.
Frederike was a member of the Bundesjugendorchester (BJO); between 2014 and 2016 she played with the Essener Philharmoniker and at the moment she is engaged in the Gürzenich Orchester, Cologne.
After a period of practical training at the IFF (Institute for the early promotion of highly-talented musicians) at the HMTM Hannover, Frederike von Gagern also started working as a violin teacher.
Since 2012 she has been teaching at the "Ida Bieler Music Academy" (bieler- akademie.de) and also at the music school Fellbach starting in 2016.
Her students were honoured with first prizes at the national competition "Jugend musiziert" and the competition of the "Deutscher Tonkünstlerverband" (DTKV). They were admitted in representational orchestras (e.g. Landesjugendorchester NRW), passed the entrance examination for violin studies, e.g. at the University of North Carolina (UNCSA), USA, or received valuable instruments lent by the "Musikinstrumentenfonds" of the "Deutsche Stiftung Musikleben" (Hamburg).