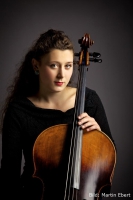 The cellist Jola Shkodrani was born in 1988 in Tirana/Albania. From 1995 to 2007 she attended the School of Arts "Jordan Misja" in Tirana, studying cello with Profs. Xhovalin Lasri, Astrit Selita and Dorina Laro.
After that she studied at the University "Folkwang Universität der Künste" in Essen with Prof. Alexander Hülshoff, graduating in 2013. She is currently doing her Solo Master at the Hochschule für Musik Cologne in the class of Prof. Hans Christian Schweiker.
Jola Shkodrani has participated in master classes with Martin Ostertag, Leonid Gorokhov, Truls Svane, Alan Meunier, Arto Noras and the Minguet Quartet. Chamber Musical influences have come from Profs. A Rainer, A. Spiri, M. Diener and H. Schoneweg.
She has played in orchestra and as a soloist with the "Young Virtuosi of Tirana", the "European Orchestra of Youth Spirit and the "Yovenes de Murcia" Orchestra. She also played in the Folkwang Chamber Orchestra and the "Klassische Philharmonie Bonn". In 2014 she played in the Ravenna Festival Orchestra under the direction of Riccardo Muti. She's a member of the "Vivazza" chamber music ensemble and has played solo concerts in Albania, Germany, France and Italy. She also forms a cello duo with Bernhard Rath in Cologne.
Jola Shkodrani is a price winner of national and international competitions. She won first price at the international "Pjeter Gaci" competition in Shkodra/Albania, the "Special Price" at the "Moxartiana" Competition in Skopje/Macedonia, second price at the Chamber Music Competition of Tirana and first, second and third prices at the international "Lieder der Erde" competition in Tirana.
Since 2010 she is a scholarship holder of the Albert-Eckstein foundation that provides her with a rare cello made by Albert Haff in 1852. In 2013 she was a scholarship holder of the "Deutschlandstipendium" from the German National Ministry of Education and Science.
Jola has extensive teaching experience from various music schools in Germany. She is teaching at the Ida Bieler Music Academy in Cologne since 2015.