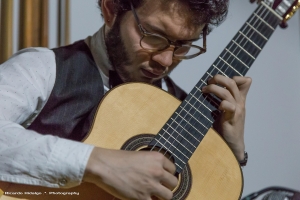 The guitarist and teacher Miguel Mandelli was born in 1995 in Florianopolis, Brazil. He has given concerts in various countries, Brazil, Argentina, Germany, Irland, Austria, Italy, won first prizes in two national Solo Competitions and two Chamber Music Competitions in Brazil as well as an international competition and was a finalist in the important international Guitar Competitionin Oberhausen.
Miguel studied with Brazilian teachers Angela Muner and Edson Lopes, czech teacher Petra Polackova and is currently studying with renown Prof. Hubert Käppel at the "Musikhochschule" in Cologne. For three years, Miguel was first guitarist in the Guitar Orchestra Tatui (Sao Paolo).
Teaching Guitar has been a part of Miguels career for a long time. His gained his first experience teaching younger students at the International Conservatory of Tatui (Sao Paolo). He worked in Ireland alongside the musical therapist John Clark, teaching people with special needs as well as teaching privately during his studies in Rome, Firenze and Graz.
"Teaching is probably the most important profession for me, it is a great responsibility. Age doesn't change the importance. I find it greatly rewarding to pass on of everything I've learned, and discover new things myself in the process of exchange with students, both children and adults."
Currently Miguel Mandelli is teaching at the public Music School in Sankt Augustin, the Rheinische Musikschule in Cologne and the Ida Bieler Music Academy.