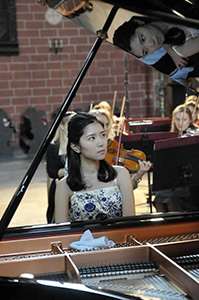 Saki Kubota was born in Tokyo, Japan and began taking piano lessons at the age of five. After graduating from Kunitachi Music High School in 2007, she continued her studies at Kunitachi College of Music under Prof. Seiko Ezawa. After her bachelor's degree in 2011 Ms. Kubota came to Germany and began her piano studies under Prof. Jacob Leuschner at the University of Music and Dance Cologne, where she completed in 2014 with a Master of Music degree. Then she continued her studies in the further study program, Concert Exam (Piano) which is the highest degree to be awarded by the university, with Prof. Jacob Leuschner at Detmold University of Music. In January and February 2017, she gave solo recitals at the Concert Hall in Detmold and thus earned her Concert Exam in piano. 
 
Ms. Kubota has won numerous prizes in national and international competitions. In 2010, she won the 1st prize in the "Soleil Music Competition" in Tokyo and was invited to the "International Summer Academy" in Vienna. In 2013, she won the 1st prize in the international piano competition "ISCHIA" in Italy. In 2018, she was invited to perform for Leif Ove Andsnes in master classes at the Prof. Jiri Hlinka Piano Academy in Bergen, Norway and also performed Schumann Piano Concerto with the Torun Symphony Orchestra in Chełmno, Poland.  Ms. Kubota has also taken part in numerous summer academies and given concerts in Germany, Austria, Italy, France, Spain, Poland, Norway and Japan. In addition, she has also participated in various master classes held by famous performing artists since 2010, such as Dang Thai Son, Michel Beroff, Martin Hughes, Jun Kanno, Akiko Ebi, Gerald Fauth, Matti Raekallio, John Perry, Pascal Devoyon, Pierre Laurent Aimard and Dina Yoffe.  
 
Kubota is currently, still continuing her stage appearances in Germany, Italy, France and Spain, and she has also been teaching at various music schools in Cologne as well as giving private lessons to students of all ages.