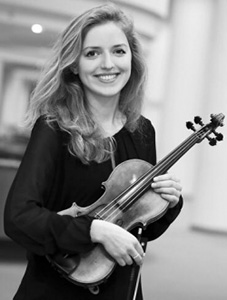 Born in 1992, Sophia Schubert started playing the violin at age 4 and soon afterwards took piano lessons, too.
After studying with Ingo de Haas (concertmaster opera Frankfurt) she became a pre- college student with Prof. Ulrich Edelmann in Frankfurt.
Sophia began her professional education in Karlsruhe with Prof. Elina Vähälä and continued her studies in Freiburg with Anna-Katharine Schreiber and Prof. Sebastian Hamann.
She is currently doing her master in Prof. Hamanns class there.
Sophia was member of various youth orchestras such as the Bundesjugendorchester, the Junge deutsche Philharmonie and the Gustav-Mahler-Jugendorchester.
She got further orchestra experience when playing in the Badische Staatskapelle Karlsruhe, Beethovenorchester Bonn and during her two-year academy in Gürzenich- Orchester Köln.
Apart from playing in orchestras and her love for chamber music, teaching has always been an important part of Sophia's life.