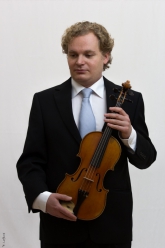 Victor, born in Finland in 1978, started to learn the violin at the age of eight. After studying with Jan Vacek he started his professional studies at the Turku Arts Academy and the Jyväskylä Conservatory with professors Anatoli Melnikov, Lennart Helling and Simo Vuoristo. He then seized the opportunity to spend two years in the Rubin-Academy in Tel Aviv with the renowned Prof. Yair Kless. After moving to Germany he graduated from the Hochschule für Musik Cologne before commencing postgraduate studies with Prof. Ida Bieler in the Robert-Schumann-Hochschule Düsseldorf – a time that influenced his musicianship profoundly.
Victor participated in prestigious masterclasses such as Mozarteum Summer Academy, Chautauqua Summer School (US) with Alexander Vinnitski, Yair Kless, Zakhar Bron, Hagai Shaham, Anke Dill, the Audubon Quartet and many others.
He played his first concert as a soloist with a professional orchestra at age thirteen. He subsequently performed in many chamber music and solo concerts, on Finish radio and television, in various festivals.
Victor has taken a special interest in teaching for a long time. Already at the beginning of his studies he worked with younger children at the Turku Arts Academy. In Germany he worked in various music schools, e.g. the Clara-Schumann-School in Düsseldorf. He has also been assisting Prof. Bieler and is now director of the Ida Bieler Music Academy in Cologne.