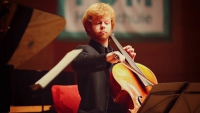 Yan Vaigot, born in 1985 in Grasse, France, started cello lessons at age eight with Jean Luc Vidal and gave his first concert as a soloist with orchestra at age twelve.
After graduating from the CNR University in Boulogne, class of Prof. Xavier Gagnepain, he started his studies in 2005 at the "Folkwang University of Arts" in Essen, Germany with Prof. Christoph Richter. In 2008 he changed to the class of Prof. Young Chang Cho and subsequently graduated.
Important influences have come from renowned musical personalities such as Frans Helmerson, Wolfgang Herzer, Rivka Golani, Gary Hoffman, Miklos Perenyi, David Geringas and Ko Iwasaki. Yan has also worked with Jérome Pernoo on a regular basis.
Yan Vaigot has won the Léopold Bellan Competition, the "Folkwang-Competition" in 2006 and the "Folkwang-Award" in 2011. He received scholarships from the Yehudi Menuhin "Live Music Now" foundation, the International Summer Academy "Schloss Heiligenberg" and the Villecroze Academy. Currently he is a scholarship holder of the "Villa-Musica" Rheinland Pfalz and the Dr. Franz Stüsser foundations.
As soloist Yan has collaborated with renown conductors such as Gerd Albrecht, Sascha Götzel, Michel Piquemal, Aki Schmitt and frequently performed on WDR3, Radio France and Mezzo. He was attending the "Pablo Casals Festival", the "Montecito Music Festival", the festival "les vacances the Mr. Haydn", the "DEIA Music Festival", the "Internationale Festwoche europäischer Hochschulen" and the "Deutscher Oktober Tirana" festivals. He has performed all over Europe, in the US and Asia.
His chamber music partners include famous artists such as Rainer Moog, Rainer Honeck, Midori Seiler, Hideko Kobayashi, Rivka Golani, Catherine Klipfel, Michael Hauber, Young Chan Choo, Herbert Schuch. He is a member of the "Schnitzler Quartet"and the "Trio Lafroyg".
In addition to his performance career Yan has developed a profound interest in teaching. He has taught masterclasses in France and Albania and is assistant of chamber music at the International Summer Academy "Schloss Heiligenberg". He teaches at the Ida Bieler Music Academy in Cologne since 2015.