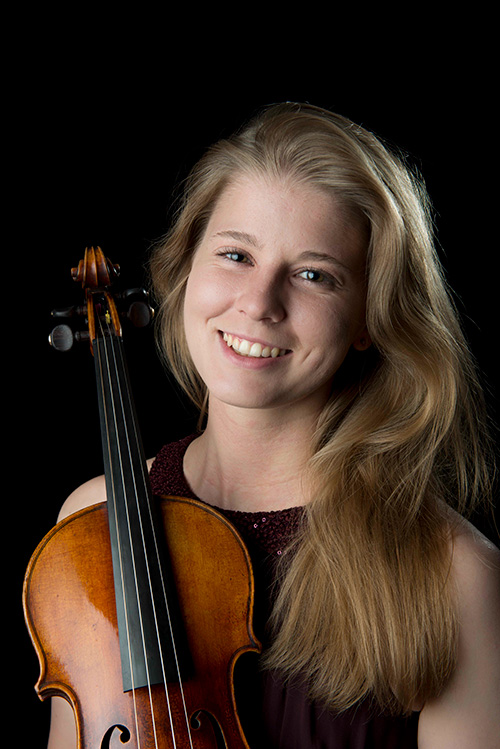 fustrian violinist Sophie Bundschuh is a passionate chamber, orchestral, and solo musician based in Cologne, Germany. A versatile artist, she has had the opportunity to perform in over 20 countries and in some of the world's leading concert halls.
Growing up in Vienna, she was concertmaster of the Vienna Youth Symphony Orchestra, the Camerata con Brio and the Vienna Music School Orchestra. She has also taken part in concert tours with the Quarta – 4 Länder Jugendphilharmonie and the LGT Young Soloists. Since starting her secondary school education at the Musikgymnasium Wien, she has always been a passionate supporter of her musician colleagues and enjoys performing their own compositions such as with the composer and conductor Daniel Muck. In addition, she loves to participate in self-founded orchestras, such as the Horizon Youth Orchestra founded by the young musician, Paul-Boris Kertsmann.
Since 2017, Sophie joined the acclaimed and award-winning LGT Young Soloists. Until now, she has recorded three CD's with them, two under the Sony Music RCA Red Seal label and the most recent one being with Naxos.
She has performed in major concert venues around the world including the Elbphilharmonie Hamburg, Berlin Philharmonie, Konzerthaus and Musikverein in Vienna, Rheingau Music Festival, Meran Music Festival, and the Dresden Music Festival.
In addition to performing, she has a deep affection for teaching. Her goal is to create a safe space for students of any age and nurture them into being the best musician they can be. Throughout COVID-19, she was able to teach multiple students online from all around the world, and even took part as an instructor for an online Masterclass in Colombia.
She received her first violin lesson at the age of five under the instruction of Agnes Stradner at the Musikschule Döbling in Vienna, Austria. Her previous mentors include Tatjana Sotriffer and Alexander Gilman.
Currently, she is a student of Sibylle Tschopp at the Kalaidos Fachhochschule in Zurich.
Sophie is playing on a 'Jean Baptiste Vuillaume' violin from 1852, copy of the 'Alard' by Antonio Stradivari.