Anastasiia Kolabanova, Voice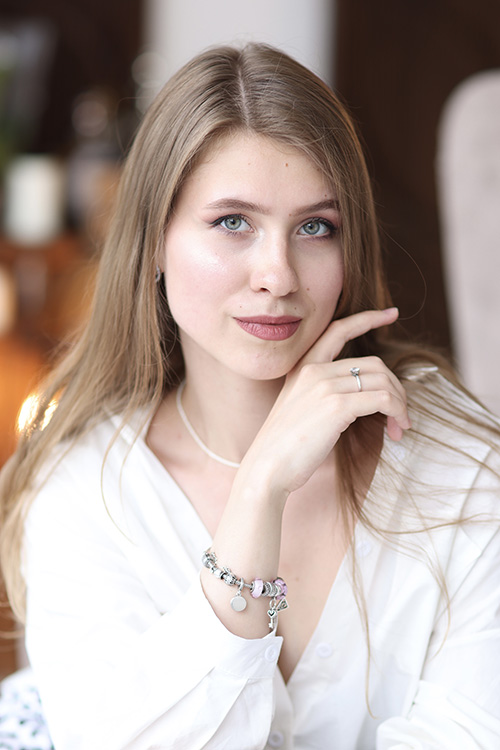 Anastasiia Kolabanova was born in Moscow and studied at the Music School, majoring in voice, piano and organ. After graduating with honours from the music school, she studied at Vishnevskaya College in Moscow since 2015.
With Vishnevskaya College she toured with the musical "Save the Drowned Man" by Mikael Tariverdiev, with the opera "Eugene Onegin" by Tchaikovsky, with the opera "Carmen" by Bizet and with the operetta "The Gypsy Baron" by Johann Strauss.
In 2018 she made her debut as Daphne in the opera "Aminta" by Sergei Gavrilov at the Shostakovich Academic Philharmonic St.Petersburg Small Hall. She later toured Moscow's Zaryadye Concert Hall and the Moscow Fashion Museum.
Anastasiia Kolabanova participated in master classes with Dmitry Vdovin, Kristina Mkhitaryan, Venera Gimadieva, Lubov Kazarnovskaya and Svetlana Nesterenko.
In 2019, she joined the Moscow Popov Academy. There she participated in a production of "Le nozze di Figaro" as Suzanne and in a production of "Don Giovanni" as Zerlina. She also took part in tours and concerts of the Academy's chamber choir.
She is a prize winner of international competitions. Winner of the 1st prize of the Moscow Mayor's Scholarships in the category of singing. Participant in the All-Russian Delphic Games 2019.
Since July 2022 she is a singer of the women's ensemble "Ukraine".  She performed at the RheinEnergieStadion in Cologne, at the Heumarkt, at the Yellow-Blue Cross in front of the Prime Minister of North Rhine-Westphalia Hendrik Wüst and at other venues in Cologne, Frechen, Bochum and Kerpen.