Francisco C. Goldschmidt, Guitar, Theory and Composition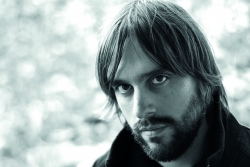 Francisco C. Goldschmidt studied composition with Cirilo Vila and Aliocha Solovera at the University of Chile, as well as a Masters in the Theory and History of Art with the philosopher Dr. Sergio Rojas at the same University. He received a scholarship from the National Board of Chile for Culture and Art to study a Masters of Music and a Konzertexamen in Instrumental Composition with Johannes Schöllhorn at the Cologne University of Music.
Goldschmidt's music has been performed by various ensembles, such as the mdi ensemble (Italy), MAM.manufaktur für aktuelle musik, Fukio Ensemble, hand werk, IEMA Ensemble, Cologne Guitar Quartet, BRuCH, Das Neue Ensemble Hannover, Kommas Ensemble, Ensemble KNM Berlin, Ensemble Recherche (all Germany), Spóldzielnia Muzyczna (Poland), Ensemble Lucilin (Luxembourg), Colectivo Azul, Ensamble Contemporáneo UC (Chile), TimeArt Studio (Taiwan), Ensemble Exophonie Tokyo (Japan), Vertixe Sonora Ensemble (Spain) and Friends of Mata (New York). Moreover, his orchestral works have been selected by the Chamber Orchestra of Chile, the USACH Classical Orchestra of Santiago, the HfMT Orchester of Cologne, SWR Sinfonieorchester of Stuttgart and the Gürzenich-Orchester of Cologne. In addition, his music has been performed at several festivals, including the UC Festival in Santiago de Chile, Concerts-Lab in Tokyo, Ciclo-Cervantes in Buenos Aires, MATA Festival in New York, Ensems in Valencia, WERFT and Acht Brücken in Cologne.
He have received numerous awards, such as the finalist at the «Luis Advis 2007» competition, the support of CNCA of Chile in 2013/2016, the «RheinSilver Award 2014» in the framework of the New Talents Biennial of Cologne, the Second Prize at the Berlin's «Felix-Mendelssohn-Bartholdy-Competition 2014», the Cologne's «Bernd-Alois-Zimmermann-Scholarship» in 2016 and the support for four comissions by the Ernst von Siemens Music Foundation (2018/2019/2020/2023). In 2019 he was artist in residence at the Artists' Village Schöppingen and was awarded at the «Young Composers Forum 2020» of the Bavarian Academy of Fine Arts of Munich.
In 2023 the audiovisual record of his instrumental monodrama «ELOY –music with images of isolation» will be released; one hundred minutes of instrumental music that he has been composing since 2012 to date, as a work in progress, based on the homonymous novel by writer Carlos Droguett.
Francisco C. Goldschmidt lives and works in Cologne since 2011 as both a freelance composer and the artistic director of the Kommas Ensemble. He has taught in several music schools in Germany and since May 2017 he has been teaching Guitar, Theory and Composition at the Ida Bieler Music Academy.