Marie-Louise Wundling, Cello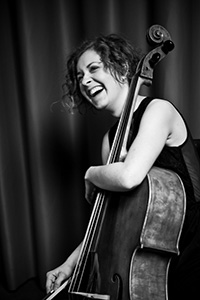 Marie-Louise Wundling was born in 1989 and grew up in Nuremberg as the daughter of two musicians. After having her first cello lessons with her mother, she was taught, amongst others, by Stephan Haack, second principal cellist of the Munich Philharmonic Orchestra. She received several prizes at "Jugend Musiziert" and was a member of the National German Youth Orchestra.
Marie-Louise began her studies at the Universität Mozarteum Salzburg and the Zürcher Hochschule der Künste; since 2016 she is continuing her master studies at the Folkwang Universität der Künste (Essen) in the class of Prof. Christoph Richter. In september 2018 she will also begin baroque cello studies.
She was a scholarship holder of LiveMusiNow Switzerland and the Rotary Club Nuremberg.
Since her childhood Marie-Louise is a activ and enthusiastic orchestra player; she played as a substitute in the Folkwang Kammerorchester, the Neue Philharmonie Westfalen, the Kammerakademie Neuss and the orchestra project Spira mirabilis.
In her teaching she focuses on the developement of the technical knowledge and  the joy of making music together.  The developement of a free and effortless way of playing the instrument is of  same importance to her as the discussion of musical contents.