Vittoria Quartararo, Piano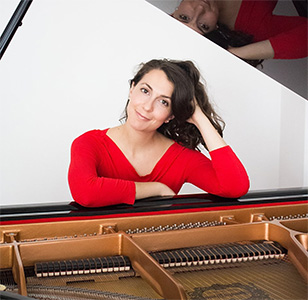 Born in Silcily in 1989 but raised in Florence, Vittoria Quartararo first started singing at a young age. At the age of 8, she started her professional piano training at the prestigious Fiesole Academy of Music (Florence) under the guidance of Prof. Valentina Pagni. In 2006, she made her debut as a solo pianist with the Fiesole Youth Orchestra at the Puccini Theatre of Florence. She was awarded several scholarships to pursue her studies at the Conservatory of Ferrara. After graduating in 2008, she joined the class of the concert pianist Prof. Andrea Lucchesini for three years as a post-graduate student. She also studied Chamber Music with the members of Trio di Parma.
Vittoria has had the opportunity to take part in international Masterclasses taught by world-renowned musicians such as Maria Tipo (Fiesole 2009), E.Virsaladze (Florence, 2010), H.Sigfridsson (Siena, 2011) e P.Devoyon (Holland, 2011), C. Elton (London, 2011), K. Bogino (Sweden 2012), A. Lonquich (Siena, 2012) and E. Kupiec (Spoleto, 2016)
In 2013, she obtained a Master's Degree in Musicology from the Liberal Arts College of Florence. She then moved to Cologne, Germany to continue her piano studies at the Hochschule fuer Musik und Tanz, first under the tutelage of Prof. Jacob Leuschner and after in the class of Prof. Claudio Martinez-Mehner, finishing her Master in Piano in 2016.
Currently she is specializing herself in Contemporary Music under the tuition of David Smeyers with the Ensemble 20/21, performing in Germany and abroad.