Ievgeniia Iermachkova, Piano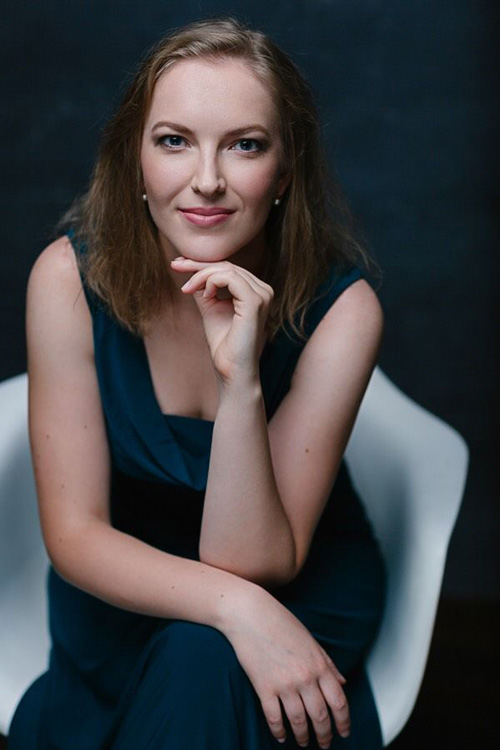 Ievgeniia Iermachkova regularly concertizes across Europe as solist, accompanist and with chamber music ensembles.
She was born in Crimea, learned at famous Kyiv specialized music school named after M. Lysenko and studied at the National Music Academy of Ukraine named after P. I. Tchaikovsky in the class of Prof. Nataliya Tolpygo. Since 2013 she is based in Germany. There she completed Master degrees at Folkwang University of Arts in Solo Professional Performance and Chamber Music with Prof. Hisako Kawamura and Evgeni Sinaiski as mentors.
Ievgeniia is laureate of numerous competitions, among them Maria Yudina Chamber music competition in St.Petersburg 2009 (1st Preis), International competition Rome (2nd  Preis Solo and 3d Preis Duo), International competition "Art of XXI. Century"(1st Preis in chamber music), Alexander Skriabin competition in Paris 2016 (3d Preis).
2019 she received the Dr. Alfred Hoff special prize for young pianists at the Folkwang University of Arts.
Iermachkova has performed at festivals such as the Yuri Bashmet Youth Academy in Minsk (2009), the Emil Gilels Foundation Festival in Freiburg (2012), the International Piano Academy Freiburg (2014), the Beethoven@home – Next generation (Bonn, 2015), the International Holland Music sessions 2015 and the Piano-Marathon by Klavier-Festival Ruhr (2015 and 2017).
Dmitri Bashkirov, Lilya Zilberstein,Robert D. Levin, Christopher Elton, Arnulf von Arnim, Michel Dalberto and Imogen Cooper paved her artistic imprints.
Ievgeniia was awarded numerous scholarships, among them: the President of Ukraine scholarship and the DAAD-Scholarship.
Since 2018 Iermachkova works as a faculty member at the International Music Academy Anton Rubinstein in Düsseldorf.